In a recent FA gunboat game, the Rhun nation was FP but surrounded by enemies, and was quickly eliminated. I don't have access to his setup, but I started wondering how I would set up in that scenario in order to survive. So I created, with Ernest Hakey, an Elvish Rhun setup oriented around agents, since armies would be futile in this situation.
Here is the SNA section of the setup.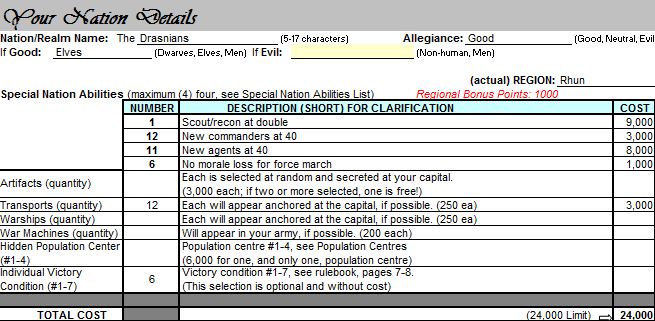 And the PC's, notice the capital is on the island but the backup major town is off everyone's map on the right-side of the lake. I won't post an image of the army, just figured to start with 800 LC.

And finally, the starting characters:

This is a nation that will be a powerful agent nation and very hard to take out. It will need to send its emissaries far away in order to create safe camps, into whatever area is more dominated by the FP.
Thanks for reading!
P.S. I'm posting images into the forum for the first time, and what I see in my post is some gobbledegook, I'm hoping that when I click "Create Topic" that it will resolve the references and post the images. If not, I will try again…
Jeremy